9 Compelling Reasons To Start Strength Training
By Brent King On September 21, 2016
Under Uncategorized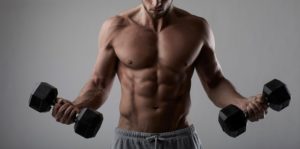 Something's gone wrong.
You don't remember like you used to.
You collapse on the couch every night and stare at the television like a zombie.
What about that pressure in your head? You try to dismiss it, but the discomfort is real.
Your body is getting weaker and weaker.
And that beautiful build of your youth? Hahaha! (If you don't laugh you'll cry, right?)
Maybe we shouldn't even bring up your weight…
But hold it!
What if I told you that there was something simple you can do to improve any or all of those challenges—and much more?
There is.
Strength Training To The Rescue
It's called strength training, and it is just what your body needs to fight a host of things in your life that are spiraling out of control.
Here's what it can do for you:
1. Strength Training Helps You Live Longer

Strength training trumps all other forms of exercise. A 2014 study at UCLA showed that the more muscle mass you have the lower your risk of death. This is something that older adults should pay special attention to. Indeed. Pumping iron can increase your lifespan!
2. Strength Training Improves Your Mood
Strength training boosts your endorphins naturally and makes you feel great. It can also help with anxiety and depression.
It increases your confidence and presents you with a superior picture of your appearance, abilities, and personality.
3. Strength Training Sharpens Your Mind
Ample research indicates that resistance training requires an increase in brain function and tunes up the nervous system. This improves focus, heightens insight, and attunes coordination of movement. A practical way to increase cognitive function in older adults is welcome information for those who are struggling. Evidence supports the conclusion that strength training not only supports the mind in many ways, but health in general. Which brings us to our next point.
4. Strength Training Prevents Disease
A plethora of health benefits are the result of resistance training:
Arthritis responds to strength training as well as it does to medication, with beneficial side effects such as less weight on beleaguered joints.
Consistent strength training can increase bone density* and, among other things, prevent osteoporosis and effectively decrease falls in older people by 30%.
Studies show that those who weight train have better blood sugar control. This is because an increase in muscle tissue pulls more glucose from the blood stream, controlling blood sugar spikes and helping to prevent diabetes.
Resistance training improves cardiovascular function and reduces blood pressure by strengthening the heart and allowing it to beat more efficiently. Its effect on hypertension has in some cases been shown** to be as effective as taking medication. Weightlifting aids in reducing the abdominal and organ encircling fat that has been connected to a higher risk of cardiovascular disease and diabetes.
Research has demonstrated that strength training increases low back strength and eases low back pain.
As with aerobic exorcise, strength training decreases colds and illness.
5. Strength Training Makes You Stronger and Fitter
Because strength training improves your capacity for work (harder and longer), it improves your ability to do everyday tasks. It does this by:
Strengthening your bones, ligaments and tendons
Increasing nervous system connections to skeletal muscle
Increasing range of motion
Increasing lung function
Weight lifting goes far beyond making everyday tacks easier though. The grand payoff is that, in the end, it prevents serious injury.
6. Strength Training Improves Your Body Mechanics
Scientists have found that strength training improves your posture. It also maintains your balance, flexibility, and coordination as you age, reducing your risk of falling by as much as 30 percent.
7. Strength Training Stops Your Muscle Loss
One of the most important benefits of resistance training is that it halts the muscle loss that begins to happen to all of us in our 40s. It boosts the activation of the motor units within muscle tissue even if there is no increase in muscle mass.
8. Strength Training Will Boost Your Energy and Help Maintain Your Optimal Weight

Recently, several studies have reinforced our long-standing understanding that strength training increases metabolism in three ways:
Resistance training builds more muscle. Muscle burns a much higher percentage of calories at rest than other tissue, so more muscle gives you a higher metabolism.
Muscle can store more fuel for quick energy production, calories that would otherwise be stored as fat.
Strength trained muscles develop a higher density of capillaries which improve circulation and recovery time.
9. Strength Training Improves Your Sleep
Most of us have heard that exercise can improve sleep patterns, but some studies also suggest that resistance training in particular can give you a better night's sleep.
Don't Give Up Hope
It's true. Something is wrong. You don't feel good, and you're discouraged.
But don't give up hope.
Strength training has turned life around for many people, and it can turn it around for you. You're never to old to start.
Do It Today
Transforming your life starts with deciding to do it. You can do it in half an hour, three times a week. Don't know how? Buy a book, or hire a personal trainer. Do it today! It will transform how you feel and how you look.
You'll be forever glad you did.
_______________
*  http://www.ncbi.nlm.nih.gov/pubmed/9927006
** http://www.news.appstate.edu/2010/11/29/study-shows-resistance-training-benefits-cardiovascular-health